This recipe is based on something I saw on Food Network from Ina Garten on Barefoot Contessa.  It is delicious.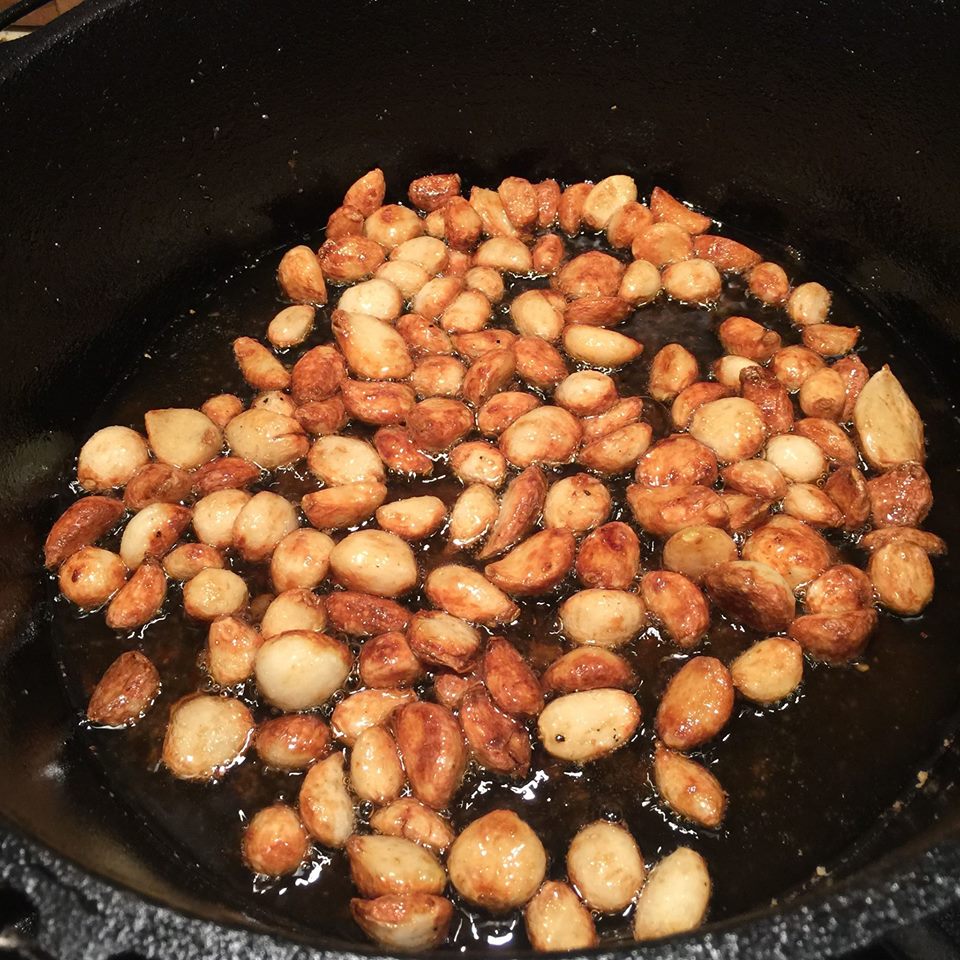 Ingredients
2 heads Garlic (about 40 cloves)
5 Pounds Chicken Thighs (bone-in, skin-on)
Kosher salt
Black pepper
1 tablespoons Olive oil
1 tablespoons Cognac (optional)
1.5 cups white wine
1 bunch fresh thyme
1 tablespoons all-purpose flour
1 tablespoons heavy cream
Instructions
Peel the garlic.  Or save yourself a lot of time and buy them already peeled.
Dry the chicken with paper towels. Season liberally with salt and pepper on both sides. Heat the oil in a large pot or Dutch oven over medium-high heat. In batches, saute the chicken in the fat, skin side down first, until nicely browned, about 3 to 5 minutes on each side.  If the fat is burning, turn the heat down. When a batch is done, transfer it to a plate and continue to saute all the chicken in batches.
Remove the last chicken to the plate and add all of the garlic to the pot. Lower the heat to low and saute for 10-15 minutes, turning often, until evenly browned. Add the wine, return to a boil, and scrape the brown bits from the bottom of the pan. Add the bundle of thyme. Return the chicken to the pot with the juices. Cover and simmer over the lowest heat for about 40 minutes, until all the chicken is done. Remove the chicken to a platter and cover with aluminum foil to keep warm.
In a small bowl, whisk together 1/2 cup of the sauce and the flour and then whisk it back into the sauce in the pot. Mash up the garlic cloves a little to incorporate them into the sauce. Raise the heat, add the tablespoon of Cognac and the cream, and boil for 3 minutes.  Pour the sauce and the garlic over the chicken and serve hot.